Help!  I've fallen and I'm afraid I can get up.
Since I am paralyzed around writing about my experiences with NVC, I'll talk about my Fear of Flying.  Might as well be Fear of Blogging, Fear of Expressing, Fear of Loneliness. Fear of (whatever your heart dreams of doing, right now).
Because, it's not Fear of Falling, is it? 

So, I think I'm refusing to write afraid to fly until I've got a pretty good guarantee someone's listening I won't fall, thus locking myself into a place bereft of creativity.  Because without the willingness to fail–privately or publicly--there is nowhere safe to create.  
Creations can be messy
And take several iterations to be born.  Remember Windows XP through Windows 7?  Or Frankenstein's monster?  The Model M Ford?
I can stand in the street and say this all day, but it has to be ok that I'm not doing it perfectly.  And not ok with other people.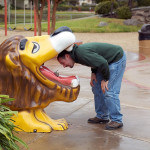 It has to be ok with me. 
Besides, there is no state of being called "Perfect" despite references on TV and popular culture.  If there is, I haven't found it and it's not for lack of trying.  But do let me know, if you have.
Place the oxygen mask over your face, first.
It's easier to think that I'm graciously doing this for YOUR edification.  But, it's still all about me.
My juice cup is just barely full enough for me to realize you have feelings and needs, too.
The level of juice changes pretty fast, so I'm thinking I will spend a lot of concentrated effort on getting my own needs identified and met, so that I can begin to hear the feelings and needs behind your words.
So I'll take an example of things I think are blocking me and try to view it through the lens of NVC.  Good for me.  Good for you?
What is Fear of Flying for you?  What does your heart sing about, when it thinks no one is listening?
Share and Enjoy