I have a secret.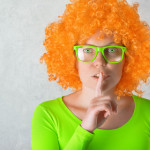 Sometimes, I do not feel good about myself.  Not all the time.  And I don't necessarily have a good reason to feel bad.  There's no major crime I've committed or rule I've broken.
Worse, I even catch myself feeling bad about not feeling good.
Possibly, I'm a little depressed.  Maybe I snatched from the hands of a young mother, the last cart at the grocery store.  Or fibbed about my availability for the football fundraiser drive.
Maybe I haven't "done" anything.  But I still feel as though I had.
Know what I mean?
I catch myself–get this–sending strong waves of disapproval to myself because I'm not being as self compassionate as I think I should be.
So, five good ways to feel like a good person from the weekly newsletter,  Just One Thing by Dr. Rick Hanson, Ph.D., a neuropsychologist and author of "Buddha's Brain," "Hardwiring Happiness," and "Just One Thing:"
"Take in the good of feeling cared about – When you have a chance to feel seen, listened to, appreciated, liked, valued, or loved: take a dozen seconds or more to savor this experience, letting it fill your mind and body, sinking into it as it sinks into you."
I sometimes need help recognizing my own qualities.  This practice was tough, initially.  I'm not giving myself the approval that I need, so it was hard taking it in.  But somehow relishing the sensation of feeling cared about seemed to lessen my compulsion for outside approval.
Recognize goodness in your acts of thought, word, and deed – These include positive intentions, putting the brakes on anger, restraining addictive impulses, extending compassion and helpfulness to others, grit and determination, lovingness, courage, generosity, patience, and a willingness to see and even name the truth whatever it is. You are recognizing facts; create sanctuary in your mind for this recognition, holding at bay other voices, other forces, that would invade and plunder this sanctuary for their own agenda (such as the internalization of people you've known
Take my friend Sally.  She's active in the community.  She  volunteers with various local organizations.  She seems to always have kind words.  And, her children are affable and engaging.
Hey!  That doesn't sound all that different from me!
Sense the goodness at the core of your being – This is a fundamental honesty and benevolence. It's there inside everyone, no matter how obscured. It can feel intimate, impersonal, perhaps sacred. A force, a current, a wellspring in your heart.
There's a deep underground rumble when I contemplate my own goodness and I can't tell if it's cultural or universal.  Sometimes I don't feel good about me and sometimes I feel WAY good about me.  Now, when I see the opportunity, I'm shooting for WAY good.
See the goodness in others – Recognizing their goodness will help you feel your own. Observe everyday small acts of fairness, kindness, and honorable effort in others. Sense the deeper layers behind the eyes, the inner longings to be decent and loving, to contribute, to help rather than harm.
So easy to see the goodness in you.  It's astonishing that I find it easier to find the good in a murderer on Death Row than for myself.  That's so harsh, I spent considerable time deciding whether to delete it.  Brene Brown says you can't love anyone more than you love yourself.  So, if you long to love others more, start with loving you.  The good news?  Loving you gives me practice for loving me.
Give over to goodness – Increasingly let "the better angels of your nature" be the animating force of your life. In tricky situations or relationships, ask yourself, "Being a good person, what's appropriate here?" As you act from this goodness, let the knowing that you are a good person sink in ever more deeply.
For me, consciously acknowledging that I'm a good person in a tricky situation is the key.  I almost never intend to do harm, so recognizing my good intentions is also important.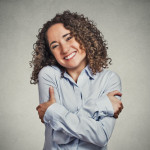 I rejoice to report that when I can catch me being down on myself for not feeling good (still with me?) I try to practice these simple but surprisingly effective tips.
And the secret?  That so many of us feel this way.
Have any favorite methods that have helped you?  Share in the comments!
Just One Thing by Dr. Rick Hanson, Ph.D.
Share and Enjoy