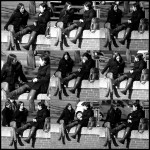 I'm fascinated by the concept of authenticity.  And startled by how connecting leads to authenticity.  Making a connection with another human being is perhaps the simplest–and least used–path to authenticity there is.
Here are 3 reasons I seek out connection:
To ease my loneliness
There is something in me which yearns for company, for presence.  That's what I want when I refer to connection.  I want to be fully present to someone else so that they experience that gift.
And, of course, I crave that for myself.
The good news is, if we are one, then when I connect with you, I'm connecting with myself.
 After all, It takes some effort to connect.  
Is it this effort that builds the fine threads of connection?  I think it is.  Along with recognizing the universality of our stories.  I hear my own personal stories, everywhere stories are told.  When I take the time to be present to someone, it helps me learn to be present with myself..
2.  

To comfort someone in pain.
It is not easy to identify when someone is in pain, especially since we are trained to hide our pain from childhood.  However, we can usually tell when someone is feeling something intensely.  Part of my NVC practice is to ask if they're feeling what I think they're feeling.
It doesn't matter whether you guess 'correctly' or not.
Just making the effort to guess is enough to connect.  And to ease the pain.  When I experience being heard, it's a release of the muscles, desire to breathe deeply, and, just plain gratitude someone cares enough to try.
We need tools for helping people in pain.  They're everywhere and some of them don't know they're in pain because they haven't been pain free for so long, they think pain is the default feeling.
3.  To promote peace.
And not just in the world.  If I cannot solve conflicts with people I love, then how can faceless countries resolve conflicts with with each other ancient enemies?
If I can contribute to a more peaceful planet, I'm willing to do just about anything.  And I think that global peace only follows if we're more peaceful on a personal level.
Listen up, though.  I 'm not calling for a world without conflict.  I imagine a world that experiences conflict as a vehicle for connecting, creating, and understanding.
I also imagine my personal conflicts as connection opportunities.  After all, needs are universal.  And it's so much easier to negotiate with someone whose needs you recognize and relate to.
What's it feel like?
 For me, it's a feeling of mattering in the world. Of being of significance to another soul.  And when I can be present to, and connect with, my own needs, well, that's simply intoxicating.  And I want it.  A lot.
What does connection feel like to you?
Share and Enjoy